SNOWSPORT® 180 Utility Plow
SNOWSPORT® 180 Utility Plow
The snow solution built for anyone, SNOWSPORT® 180 Utility Plow attaches to your 2 in. receiver at the rear of your vehicle, no hydraulics needed. Simply pull receiver pin to remove plow when not in use. SNOWSPORT® 180 Utility Plow mounts to a durable push frame that allows the blade to adjust up and down for ground accommodation. Designed for longevity, a corrosion resistant blade and heavy-duty rubber cutting edge make this plow durable and lawn friendly. Don't let snow removal become a chore with the convenient and affordable SNOWSPORT® 180 Utility Plow!
Plow Package includes: Aluminum Blade, Push Frame, Straight Interceptor & Hardware.
Note: Front or rear mounts require 8 to 14 inches of clearance from under receiver to level grade when installed. Vehicles with suspension modifications (oversized tires, lift kits, etc.) may cause SNOWSPORT® Utility Plows to fit and operate incorrectly.

California Residents: Prop 65 Warning
Can I install a SNOWSPORT® Utility Plow myself?
Installation is simple and the instructions are clear-cut. The blade and push frame for all plows should assemble in a little over an hour. From there the blade attaches in minutes. If you do need assistance, call 1-800-689-6612 between 8:00am - 5:00pm CST.
What does "fascia trimming may be required" mean?
Some front mounts may require fascia trimming. What this entails is that the front receiver portion of the mount may interfere with the lower air dam of the vehicles bumper. Fascia trimming is required when this is the case. It requires a notch being cut into the lower air dam.
How easy is the snow plow to hook up or un-hook between jobs?
The plow is designed to easily attach to your vehicle. Just insert the push frame into the front/rear receiver hitch and secure with the hitch pin. Then hang the blade, one end at a time, onto the push frame and secure the blade with locking pins. This process can be done in less than a minute. Unhooking the plow from the vehicle is just as easy, simply reverse the process.
Average Customer Rating:
(12 reviews)
Review by: Phil M.- IA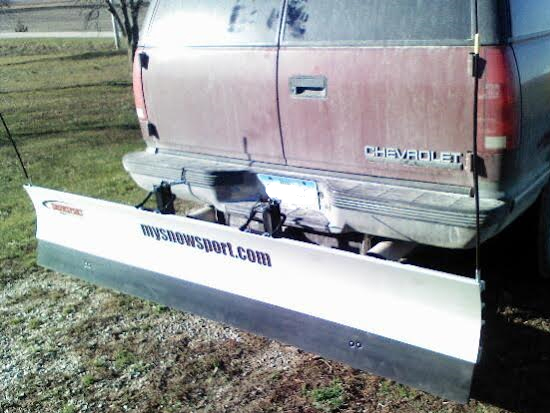 Not sure why I waited so long to buy one of these... If you follow the assembly instructions, youll be fine... Without interruptions, 1 hour max for assembly... A second pair of hand could be useful with the rubber strip along with someone to talk too. Now, just waiting for the first snow they say we will get tomorrow, 11/20/2015, 5-7".
Review by: Dave A.
I am very pleased with this reversible plow, it suits me perfectly.
Review by: Anthony M.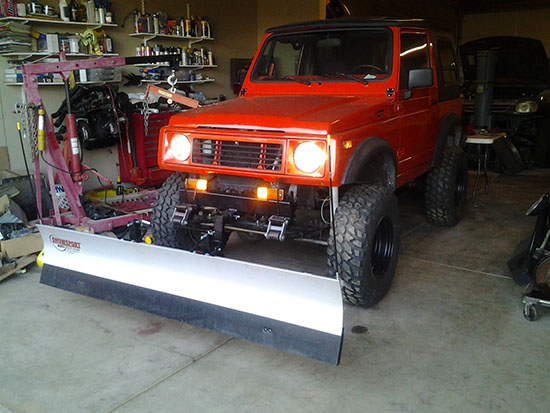 I purchased the Snowsport 180 for my Toyota truck and Suzuki Samurai. I can interchange the plow between vehicles It performs very good on steep snowy roads in the winter and can level gravel in the summertime. I highly recommend it for lighter 4x4s.
Review by: Barry B. - PA
My first use of the Snow Sport 180 came after a 14" snow fall. It worked Great with my Suzuki XL-7 SUV! It took about 20 minutes to get the hang of driving backwards and pushing snow but after that I've recommended to friends and co-workers to check them out. Took an hour to plow what would have taken me 4-5 hours to blow with a 10 hp snow blower. Great product!
Review by: Frank L. - NH
The SnowSport 180 rear plow works better than I expected and is fine for my purpose. I use it for a rather wide and long driveway. It saves me considerable time compared to the snow thrower.
Review by: Dean D.
For our usage, the reversible plow works great. We've saved a good bit of money this season. We are a non-profit agency and need to use our donated dollars wisely. This purchase for our GMC Envoy was a wise choice to help us with that.
Review by: Joe M. - NY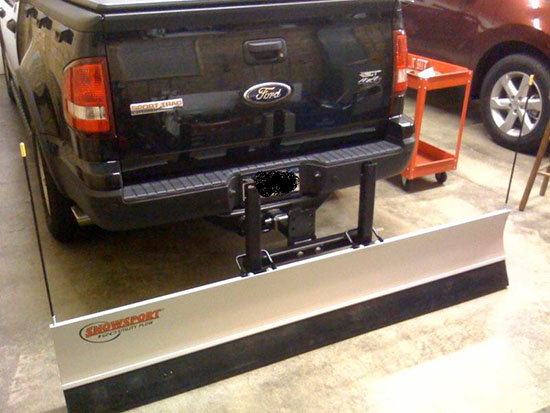 Well made product. Easy to assemble. The instructions were good. I've used this plow twice on the rear and twice on the front of my Ford Explorer Sport Trac XLT truck. Largest snowfall was about 5". Still waiting for the big storm. Overall it has worked out well. Takes me 10-15 min with the SnowSport in a warm truck versus an hour snow blowing. The backup camera I've helps plowing when rear mounted. Easy on, easy off. Open the garage door & backout plowing. That is nice. Assuming the plow blade & hardware hold up a few years, which it looks like it should.
Review by: Herb C. - British Columbia
The blade has been assembled & "dry mounted" but the Vancouver winter has not provided snow, this year, but we are "ready". Everything went together smoothly and according to instructions. We've tow-bar mounts on the front of the Suzuki, and designed a transition bracket, to provide for a front mount. The SnowSport 180 plow looks great, and ready to go to work.
Review by: M.L. - IN
The SnowSport 180 rear plow works really well no problems the first winter and the Chevy S10 handles it well.
Review by: Ron R. - NM
While I find the SnowSport 180 rear snow plow to be very useful and handy for moving snow, it is a bit too light weight for removing more than a foot of snow at one time.
Review by: Nick P.- MI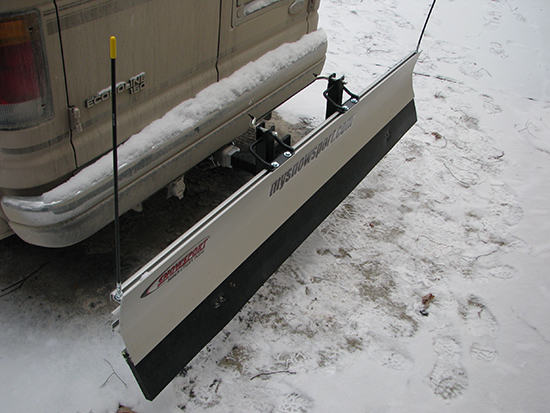 I am almost 60 and have been disabled with severe back problems, fibromylgia , and IBS. Pretty much bedridden . I have to have help just shopping and with household chores weekly and they have to be able to get off the road and park . I have a country drive and services just cant time things close enough to always have me cleared out . I bought the 180 because it is the lightest plow . It fits on the back of my handicap van and is a little wider then the vehicle . The most difficult part was putting on the rubber strip for me . I was able to get about 4 foot on then it was stuck. I greased it all up with butter and took a two by four and put it on the edge and pounded against it with a 3 pound brass hammer and 1/4 inch at a time got it on. I was lucky and had a nice set of dewalt power tools and new drill bits so the rest was a piece of cake. I bet it took about 30 minutes but I rested and turned it into a evening. The next day I mounted it on the truck. It looks great. I am going to get a strip of reflective tape to put across the top of the plow and some on the rear edges that stick out past the side of the van but I am all set. No snow as of yet but I have seen the films on Youtube. I know it will work fine. I am on a 15 pound weight restriction but once it is hung I can lift one end at a time. Very well made and I am happy. The only downside is not being able to backdrag but the ability to go over grass is worth the trade off. That rubber strip is 1 inch thick and the whole plow well made. I am sure if I keep it under 5 mph as suggested it will hold up well. I too received my plow quick only 2 days to Michigan during a Holiday week. Thank you all so much for a quality product. Never again will a heavy wet snow threaten my health nor will I fear being stranded or letting visitors down. God Bless.
Review by: Andy A. - Manitoba
I think the SnowSport 180 reversible plow is fantastic. I bought one in December and it has worked very well clearing snow from my 150 foot gravel driveway. The plow works so well that I sold my snow blower! It takes me about 10-15 minutes to clear the entire driveway, from the comfort and warmth of my truck cab!