SNOWSPORT® HD Utility Plow
Plow Package includes: Aluminum Blade, Push Frame, Hardware Kit, Angling Interceptor & 2" Model-Specific Front Mount.
No more hassling with shovels or snow blowers in the cold! Now you can plow snow from the comfort of your heated truck or SUV and clear snow in less than half the time with the SNOWSPORT® HD Utility plow. SNOWSPORT® HD's heavy-duty construction allows for plowing in the most demanding conditions. It easily attaches to the front of your vehicle with our model-specific mount that's included with the blade. The complete utility plow package comes with a One Year Warranty on the plow blade and a Three Year Warranty on the rubber cutting edge.
NOTE: These front mounts require 8 to 16 inches of clearance from under receiver to level grade when installed. Vehicle's with suspension modifications (oversized tires, lift kits, etc.) could encounter improper fitment for SNOWSPORT® plow use.
See our step by step guide to learn how easy it is to use the SNOWSPORT® Utility Plow.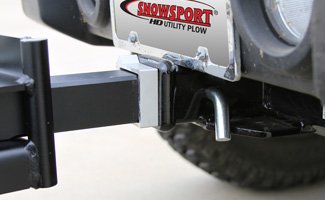 Fast Attach
With no tricky wiring or complicated install, our plow has become an industry leader in practicality. Our push frame simply slides into the front mount and is secured with a pin. This trouble-free process means you will be plowing in minutes and that the utility plow can easily be stored between uses.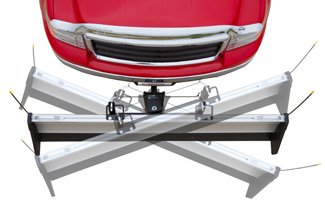 Angling Blade
With increased options, comes increased performance, that's why the SNOWSPORT® HD gives you an adjustable 3 point position blade. Featuring straight or dual angled blade positions, our pivoting plate makes it quick and easy to switch to the one that will work best for you.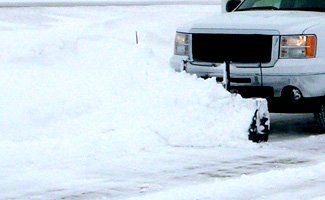 Increased Capacity
The flexible box ends keep snow from spilling out the sides, expanding its plowing width and saving you time. The versatile design makes the SNOWSPORT® Utility Plow perfect for all kinds of demanding conditions including pushing heavy wet snow, powering through drifts or clearing hard packed snow banks.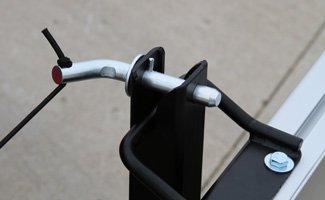 Quick Pins
By holding the blade in place when plowing and securing it while transporting at highway speeds, quick pins give new meaning to the phrase "job security". Best of all it takes only seconds, works under the most demanding conditions and can be operated with gloves on.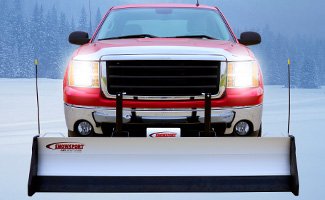 No Lights Needed
Increased visibility and safety are important factors that we put into manufacturing our blade. That is why the practical design does not block headlights in plow or transport position.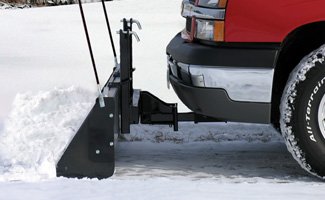 Turf Friendly
Built in trip edge works on concrete, brick, black top, gravel and grass surfaces.
Anodized 6063-T6 aluminum extruded blade
Model specific front mount included in package
No extra front suspension support needed
84" and 96" blades available
Each blade is 18" high x 3" thick
Heavy duty 1" thick rubber cutting edge
Includes two Blade Markers
Includes Box Ends
Blade weight approx. 110 lbs.
One Year Warranty on the plow blade
Three Year Warranty on the rubber cutting edge
Can I install a SNOWSPORT® Utility Plow myself?
Installation is simple and the instructions are clear-cut. The blade and push frame for all plows should assemble in a little over an hour. To install the front receiver hitch for the SNOWSPORT® HD Utility Plow or the SNOWSPORT® LT Utility Plow, plan an additional 30-60 minutes depending on your level of experience. From there the blade attaches in minutes. If you do need assistance, call 1-800-689-6612 between 8:00am - 5:00pm CST.
What does "fascia trimming may be required" mean?
Some front mounts may require fascia trimming. What this entails is that the front receiver portion of the mount may interfere with the lower air dam of the vehicles bumper. Fascia trimming is required when this is the case. It requires a notch being cut into the lower air dam.
How easy is the snow plow to hook up or un-hook between jobs?
The plow is designed to easily attach to your vehicle. Just insert the push frame into the front/rear receiver hitch and secure with the hitch pin. Then hang the blade, one end at a time, onto the push frame and secure the blade with locking pins. This process can be done in less than a minute. Unhooking the plow from the vehicle is just as easy, simply reverse the process.
Average Customer Rating:





(16 customer reviews)
Review by: David M. - WA
Great deal, fast shipping. Can't wait to try out the truck snow plow. My back thanks you.
Review by: Gary H. -MA
I just placed the order for the SnowSport HD utility plow Thanks! I know 2 people that have them and they love them!
Review by: Bob W. - MI
I love the SnowSport HD utility plow! First thing I'm asked, does it work? and then where did you get this? We get some crazy weather here in Michigan we can get snow everyday and sometimes we get snow all at once, this truck snow plow handled all of my conditions wonderfully. Once my neighbors saw that this utility plow did not ruin the grass or move away all of the stones on the driveway, I was asked if I could plow their areas.
Review by: Richard G. - Quebec
The SnowSport HD Utility Plow is relatively inexpensive compared to other truck snow plows, will not rust, requires no maintenance and it easily does the job I need it to do (push snow around).
Review by: Chris D. - OH
I am very pleased with the SnowSport HD utility plow. The construction of the utility plow and its components exceeded my expectations.
Review by: Randy K. - OH
I've had the SnowSport HD plow for two years now and with a 500 foot driveway this thing has been a back saver. Even my wife can handle the truck plow - lift the blade and use it without any problems.
Review by: Tim E. - MT
For anyone thinking about buying the SnowSport HD utility plow - I am hear to tell you this - for moving snow - the truck plow is without a doubt the finest product I've ever purchased. Since buying this utility plow in January of this year - I've used it on two snow storms and it performed better than I ever dreamed. If you are thinking of buying a snow plow for your truck - this is the one.
Review by: Rich G. - MI
The SnowSport HD utility plow is one of the best investments that I've ever made. I've a 350 ft driveway up a steep incline from the road to my house. I've used the utility plow to move 1" to 10" of snow with no problem. It did not tear up my yard and the gravel is still in my driveway. This utility plow is amazing and simple to use. If my current plow truck dies - all I've to do is attain another truck and put a receiver on the front of it.
Review by: Bill S. - IL
We are Very pleased with the SnowSport HD plow. It works as promised. We've the utility plow installed on a 97' Chevy Silverado.
Review by: Chris L. - CT
Delivery was prompt. The hitch - blade and utility plow setup mounted perfectly. There was some work involved to assemble the plow blade. The truck plow works as advertised although the rubber blade can prevent a smooth push on some surfaces causing the plow to shudder.
Review by: Fred C. - CO
The SnowSport HD Utility Plow is exactly what I needed to plow snow on my 300 ft gravel driveway! The cost is much lower than a conventional truck snow plow and it is easy to put on and take off. Sometimes I get high snow drifts in my driveway and the SnowSport HD tackles these pretty good. I've to take several passes over them when they are real high - but it gets the job done. I used to plow with my tractor bucket - but now I can sit in a warm cab while plowing. I Love It!
Review by: Yan R.
I got the snowplow and service is great so is the product. I sold my truck but I'm keeping this utility plow. So easy to keep in garage - lightweight aluminum blade - never know when I will need it again. Thank you!
Review by: Robert M. - WY
Great truck snow plow - it does not tear up our gravel driveway and is easy to take off and on. I wish I had got one sooner. I recommend the SnowSport HD utility plow to my friends and I think some will eventually get one. I am very happy with it.
Review by: Michael C. - NY
This utility plow pushes an amazing amount of snow - and very easily. The blade is light and manageable; you are plowing in one minute. Then - put it in the up position or take it right back off and you are driving! No wear and tear on the truck - either. It is a great piece of gear that I would recommend to anyone - big truck or small.
Review by: Gregg S. - IA
The SnowSport HD was recommended by a friend who had one several years ago. We've a Greenhouse/Florist business and the lanes and parking lot need cleared regularly. It works great with our Trailblazer.
Review by: Al K. - IL
On Friday night/Saturday we got 15 inches of heavy wet snow by my house. Your SnowSport is by far one of the best investments I've ever made. I was a little concerned how my Jeep would be able to push the snow. However, I couldn't even tell I was pushing the snow. It was so smooth! I wound up helping out 13 of my neighbors driveways. The way the snow plow functions is great! I can't wait for the next snow storm.