SNOWSPORT® HD Utility Plow
SNOWSPORT® HD Utility Plow
Snow flurries? No worries! SNOWSPORT® HD Utility Plow allows you to plow from inside your luxurious heated pickup or SUV and cuts snow removal time in half. Durable construction enables SNOWSPORT® HD Utility Plow to handle tough jobs in any condition. Attach to the front or rear of your vehicle at a moments notice with a 2" receiver. The rubber box ends keep snow from spilling out the sides and helps it stay in front of the blade. Choose a convenient and inexpensive way to move snow with SNOWSPORT® HD Utility Snow Plows.
Plow Package includes: Aluminum Blade, Push Frame, Angling Interceptor & Hardware.
NOTE: Front or rear mounts require 8 to 16 inches of clearance from under receiver to level grade when installed. Vehicles with suspension modifications (oversized tires, lift kits, etc.) may cause SNOWSPORT® Utility Plows to fit and operate incorrectly.

California Residents: Prop 65 Warning
Can I install a SNOWSPORT® Utility Plow myself?
Installation is simple and the instructions are clear-cut. The blade and push frame for all plows should assemble in a little over an hour. To install the front receiver hitch for the SNOWSPORT® HD Utility Plow or the SNOWSPORT® LT Utility Plow, plan an additional 30-60 minutes depending on your level of experience. From there the blade attaches in minutes. If you do need assistance, call 1-800-689-6612 between 8:00am - 5:00pm CST.
What does "fascia trimming may be required" mean?
Some front mounts may require fascia trimming. What this entails is that the front receiver portion of the mount may interfere with the lower air dam of the vehicles bumper. Fascia trimming is required when this is the case. It requires a notch being cut into the lower air dam.

How easy is the snow plow to hook up or un-hook between jobs?
The plow is designed to easily attach to your vehicle. Just insert the push frame into the front/rear receiver hitch and secure with the hitch pin. Then hang the blade, one end at a time, onto the push frame and secure the blade with locking pins. This process can be done in less than a minute. Unhooking the plow from the vehicle is just as easy, simply reverse the process.
Average Customer Rating:
(17 reviews)
Review by: Jesse M. - MD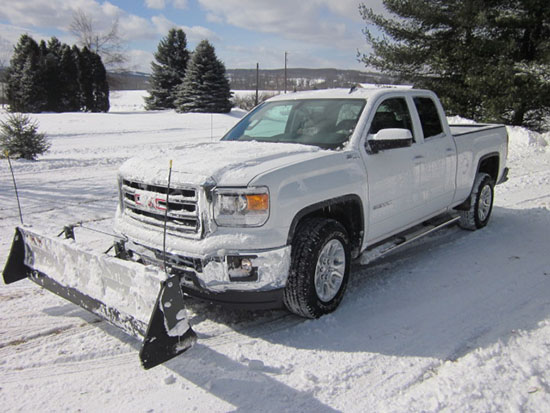 I love this plow. Had it for 4 years now and on two trucks never a problem..
Review by: Gary H. -MA
I just placed the order for the SnowSport HD utility plow Thanks! I know 2 people that have them and they love them!
Review by: Bob W. - MI
I love the SnowSport HD utility plow! First thing I'm asked, does it work? and then where did you get this? We get some crazy weather here in Michigan we can get snow everyday and sometimes we get snow all at once, this truck snow plow handled all of my conditions wonderfully. Once my neighbors saw that this utility plow did not ruin the grass or move away all of the stones on the driveway, I was asked if I could plow their areas.
Review by: Tim S.- MN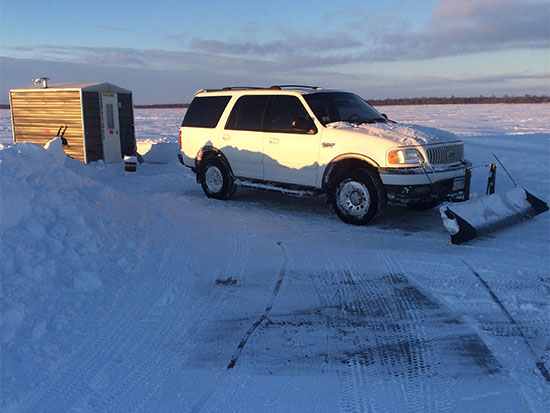 Awesome plow. Easy to store in a garage and take off with one person. In Minnesota we get a lot of snow. I have been cleaning up 6-10" snows easily and the SnowSport plow can pile the banks up 4 - 5 tall. I clear out a huge yard and long driveway in 15 minutes all from the comfort inside my truck. It doesn't work well on hard packed drifted snow on the lake as it will ride up on top of the snow pack. But if you start early in the year, you could keep a path cleared. You can see a YouTube video of my plow in action, just look up SnowSport HD plow 2002 Ford Expedition. Love this plow. Thanks to our friends in North Dakota who make this plow. It shipped to me in one day.
Review by: Chris D. - OH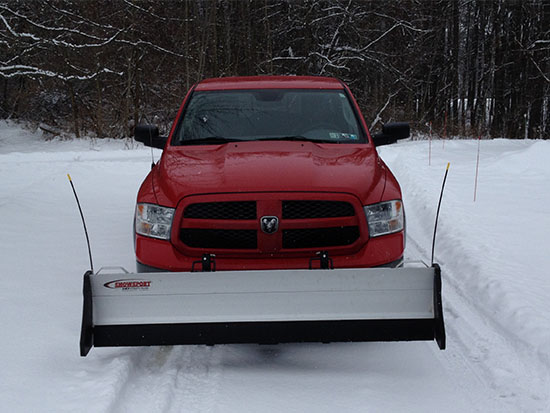 I am very pleased with the SnowSport HD utility plow. The construction of the utility plow and its components exceeded my expectations.
Review by: Randy K. - OH
I've had the SnowSport HD plow for two years now and with a 500 foot driveway this thing has been a back saver. Even my wife can handle the truck plow - lift the blade and use it without any problems.
Review by: Kerry S.- IN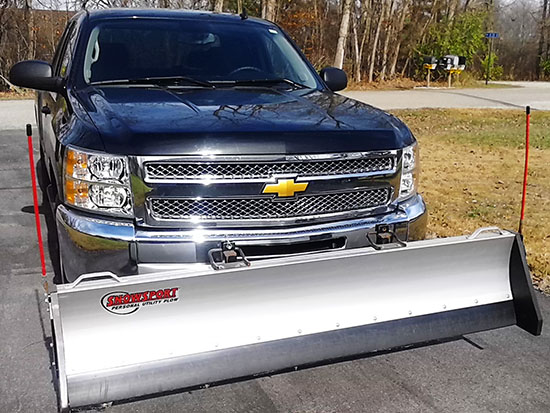 I purchased a new garden tractor and was looking at another snow blower. I added up the cost plus chains and I would still be in the cold. I found the Snowsport on the internet. I mounted the Snowsport on my 2004 F-150 and very happy with it, also my neighbors. I live on a gravel lane, my daughter has a long gravel lane also. Church parking lot cleared for service, no problem. After 10 years I traded my 2004 F150 for a 2013 Silverado. Only had to purchase a new truck mount. When not in use I hang the Snowsport on the wall. I'm 59 now, quick mount/dismount a plus. Thanks for a good product, home made cookies and gas cards from my neighbors.
Review by: Rich G. - MI
The SnowSport HD utility plow is one of the best investments that I've ever made. I've a 350 ft driveway up a steep incline from the road to my house. I've used the utility plow to move 1" to 10" of snow with no problem. It did not tear up my yard and the gravel is still in my driveway. This utility plow is amazing and simple to use. If my current plow truck dies - all I've to do is attain another truck and put a receiver on the front of it.
Review by: Frank K.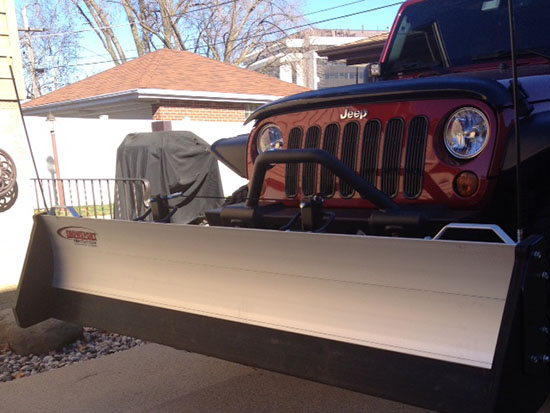 Just got the plow yesterday for my 2013 Jeep Wrangler. After reading numerous reviews and watching many videos I made the purchase. It looks great and the ease of taking it on and off are amazing.
Review by: Chris L. - CT
Delivery was prompt. The hitch - blade and utility plow setup mounted perfectly. There was some work involved to assemble the plow blade. The truck plow works as advertised although the rubber blade can prevent a smooth push on some surfaces causing the plow to shudder.
Review by: Ed S. - MI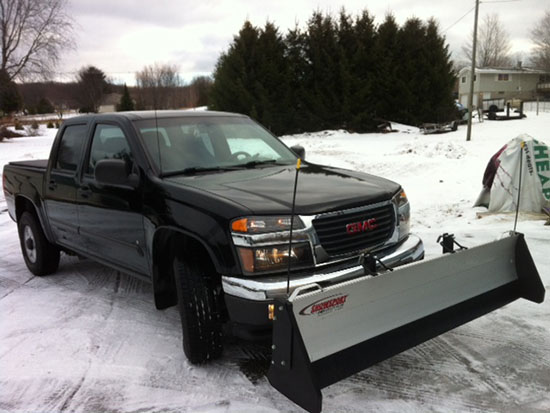 I ordered my snow plow on a Thursday and had it the following Tuesday! I have used it a half dozen times and plow 2 driveways exceeding 600 feet in length. This plow is amazing, not hard on my truck, though I do admit I tend to baby it. Caught a "plow" guy looking at it in the parking lot and he didn't think it would perform. I have proven him wrong. This is a big change after fighting Northern Michigan winters for 20 years with a 28 inch snow blower! I"ll never be without a snow plow again.
Review by: Yan R.
I got the snowplow and service is great so is the product. I sold my truck but I'm keeping this utility plow. So easy to keep in garage - lightweight aluminum blade - never know when I will need it again. Thank you!
Review by: Robert M. - WY
Great truck snow plow - it does not tear up our gravel driveway and is easy to take off and on. I wish I had got one sooner. I recommend the SnowSport HD utility plow to my friends and I think some will eventually get one. I am very happy with it.
Review by: Joseph U.- MD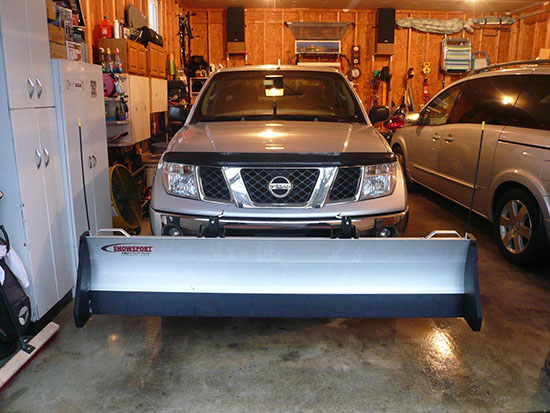 WOW!!!! Cut my snow removal time from 9 hours to 2. Could not ask for an easier set up!!! The engineering on this plow is incredible. Thanks for a great American made product.
Review by: Gregg S. - IA
The SnowSport HD was recommended by a friend who had one several years ago. We've a Greenhouse/Florist business and the lanes and parking lot need cleared regularly. It works great with our Trailblazer.
Review by: Al K. - IL
On Friday night/Saturday we got 15 inches of heavy wet snow by my house. Your SnowSport is by far one of the best investments I've ever made. I was a little concerned how my Jeep would be able to push the snow. However, I couldn't even tell I was pushing the snow. It was so smooth! I wound up helping out 13 of my neighbors driveways. The way the snow plow functions is great! I can't wait for the next snow storm.
Review by: Kevin S.- ND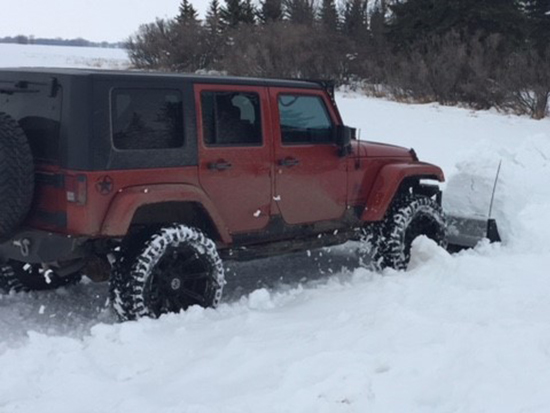 We ordered our SnowSport plow and front mount knowing it was not going to fit our lifted Jeep with tall tires. A little steel and a little welding, we made a custom mount for the plow so it would fit our Jeep. We got the plow in mid-March and with no fresh snow to try it out, we tried it in 40 degree weather in wet, heavy snow. Worked great, did not miss a beat, and plowed easily through the snow. After using a small skid-steer for four years to move snow at our home in the country, this Snow Sport plow is a snow removal game changer. Cannot wait for some fresh new snow!!