ROCKSTAR™ Commercial Tow Flap
ROCKSTAR™ Commercial Tow Flap
Not compatible with deployable bed step.
Exceptional everyday performance, ROCKSTAR™ Commercial Tow Flaps deliver superior protection in a remarkable design. Built to protect and made to perform with valuable protection and style in all four seasons. Both sturdy and practical, the extra thick rubber shields your cargo from road debris and rocks while the model specific design follows the lines of your truck for the ultimate coverage. ROCKSTAR™ Commercial Tow Guard subtly hangs below your pickup truck with anti-sailing mounting brackets and linch pins to easily take off and put on when needed. ROCKSTAR™ Commercial Tow Flap offers out of sight, out of mind towing protection.
Recommended bumper mudguard ground clearance is 6 to 8 in. Suggested clearance with a load is 3 in. minimum to prevent pickup mud flaps from dragging. Designed to fit OEM receivers and bumpers, may not fit aftermarket products. Not compatible with deployable bed step.

California Residents: Prop 65 Warning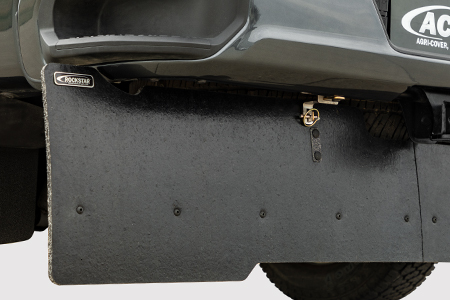 Model Specific Design
Contoured exactly to your pickup for the best protection without contacting OEM exhaust. Stainless steel mounting brackets with an anti-sailing design utilize existing holes and hardware.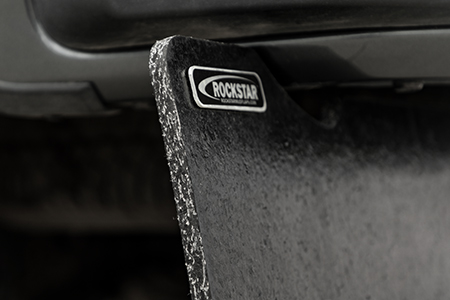 Extra Thick Rubber
Decreases sailing while the smooth surface reduces mud and ice accumulation. Stays flexible to -40° F.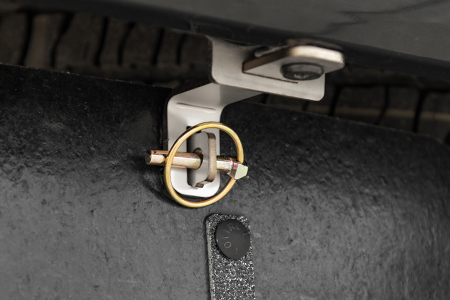 Easy On and Off
Discreetly hangs from mounting brackets with yellow, zinc linch pins.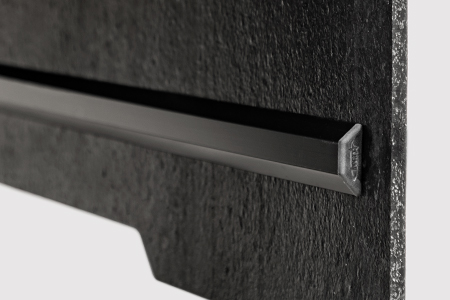 Corrosion Resistant Support
Stabilizing bar can be mounted on either side and is manufactured from black extruded aluminum.
Average Customer Rating:
(5 reviews)
Review by: Theresa N. - MN
Like the product, easy install, looks great on vehicle.
Review by: John S. - SD
Fits very good on a 2022 Ford Super Duty Dually, 8' box.
Review by: Joshua B. - MA
Best rock guard flaps out there. Mounts in seconds, built strong. Love how they aren't universal and are all custom fit for vehicle. I'll be ordering another one for my dually. Thanks!!!
Review by: Paul C. - ND
I haven't pulled much yet with the mudflaps on but the quality looks top notch. I like the fact that it's easy to take on and off. The only complaint they o would have would be the shipping took longer then I thought it should being 20 miles away from Jamestown but it was also during one of the snow storms. Overall really satisfied. Thank you