SNOWSPORT® LT Utility Plow
Built to give homeowners a straightforward tool for clearing snow, the SNOWSPORT® LT Utility Plow cuts a seven-foot-wide path in front of your pickup or SUV. The SNOWSPORT® LT Utility Plow is the answer for anyone who wants a quality product but puts a premium on value
The SNOWSPORT® LT Utility Plow is an easy-to-install and operate snow plow that includes a model specific front mount. A 1" rubber-cutting edge makes a clean cut in the snow that leaves the surface of the driveway smooth and flat without scratching concrete or tearing up grass.
NOTE: These front mounts require 8 to 16 inches of clearance from under receiver to level grade when installed. Vehicle's with suspension modifications (oversized tires, lift kits, etc.) could encounter improper fitment for SNOWSPORT® plow use.
FEATURES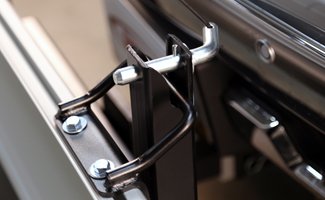 Quick Pins
Holds blade in place while plowing. Secures blade for transport while at highway speeds.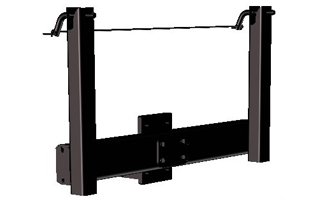 Heavy Duty Push Frame
The heavy duty push frame is key to our motion activated plowing system, allowing the blade to freely move up and down with the terrain.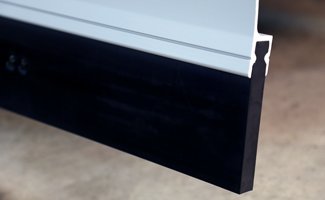 Rubber Cutting Edge
The rubber cutting edge is rigid enough to push heavy snow and works great on concrete, brick, gravel etc… and will not dig up turf.
Plow Package includes: Aluminum Blade, Push Frame, Hardware Kit & 2" Model-Specific Front Mount.
WHAT PEOPLE ARE SAYING
"I purchased the Snowsport and front mount hitch assembly. I have no experience plowing snow prior to using the Snowsport. This product is amazing! It is lightweight which means it goes on quickly and easily. Plowing is easy. I just drive the Jeep. It is so easy to handle and navigate while plowing. I can highly recommend this plow. It has made life much better."
Clyde H, MO
""For our usage, its works great. We have saved a good bit of money this season. We are a non-profit agency and need to use our donated dollars wisely. This purchase was a wise choice to help us with that."
Dean D.