The SNOWSPORT® 180 Utility Plow is the answer for anyone who wants a quality product but puts a premium on value. The snow plow mount to any 2" receiver on the back or front of your van, SUV, truck, and even some cars. Attention to detail is exceptional with our rust resistant blade, quick slide-on attachment and heavy-duty 1" rubber cutting edge. If you're looking for a fast and easy snow removal system at a good price, the SNOWSPORT® 180 Reversible Snow Plow is the perfect choice for you. The complete package comes with a One Year Warranty on the reversible plow blade and a Three Year Warranty on the rubber cutting edge.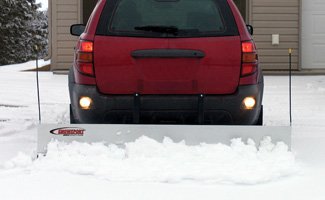 Nearly 7 Foot Swipe
Move nearly 7 feet of snow with one swipe of your SNOWSPORT® 180 blade - Your driveway will be cleared in no time, and you will be on your way. With a heavy duty one inch thick cutting edge to improve scraping ability and a tough anodized aluminum blade, you will be able to move large volumes of snow.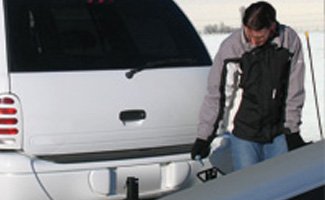 Easily Lifted
At 56 lbs, this rear plow is easily lifted by one person making it ideal for anyone in the family to use. Lifting one end at a time, the blade is lowered onto the durable push frame and secured with a dual purpose keyhole pin. The same operation is used for transport - lift onto push frame and secure with pins. It's that simple.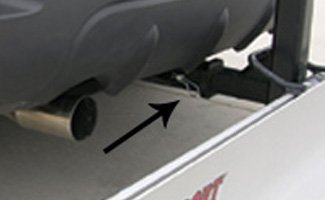 Fast On/Off
With a quick slide-on method, the push frame easily attaches into the mount and is secured with a pin. Simply attach, drop down and plow. No tools or complicated operation. Put it on, push snow, put it away.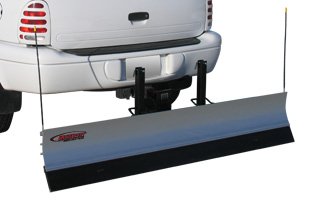 Blade Markers
Making your job easier, our practical design does not block headlights either in plow or transport position. To help visibility, blade markers come as a standard part of the reversible plow kit, making it easy to know where the edges of the plow blade are at all times, even from your mirrors when backing up.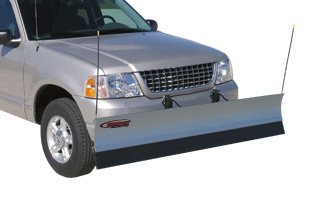 Reversible
Take efficiency to a whole new level, our lightweight construction and superb structural durability, make this blade perfect for homeowners. Designed to be used in the front or back of your vehicle, it mount to all standard 2" receivers making it ideal for SUVs and Minivans.
Specifications
Anodized 6063-T6 aluminum extruded reversible plow blade
Heavy duty 1" thick rubber cutting edge
Includes two Blade Markers
Blade weight approx. 56 lbs.
Shipping weight approx. 109 lbs.
Fits any 2" receiver on the front or rear of your van, SUV, truck, and even some cars
No extra suspension support needed
Blade is 84" long and 14 ¼" high
One Year Warranty on the SnowSport® Plow blade and a Three Year Warranty on the rubber cutting edge
WHAT PEOPLE ARE SAYING

" I'm very happy with the quality and performance of the Snowsport 180, it has met my expectation for snow removal. "
John M.

"I am very pleased with this reversible plow, it suits me perfectly. "
Dave A.

"I am pretty impressed so far. The first snow storm of the year dumped 14 inches here in Providence and the SnowSport 180 was able to move all of it in one sweep. I installed a front hitch on my Dodge Dakota and it is really easy to put on and take off. The guys at work call it a "baby plow", but it does a great job in my tight parking lot for 8 vehicles. I do not miss the time with my snow blower either! "
Andrew C., RI